ONE MORE DOUBLE WIN IN KZ1 CATEGORY AT WSK MASTER
A further great success in KZ1 category for our RVXX engines. Marco Ardigò and the Tony Kart Racing Team took the control during the second round of WSK Master Series, held at the 7 laghi International Circuit. The success of our engines was then confirmed also by the second position of the Czech driver Hajek, Orion Racing Team.
ONE MORE DOUBLE WIN IN KZ1 CAT...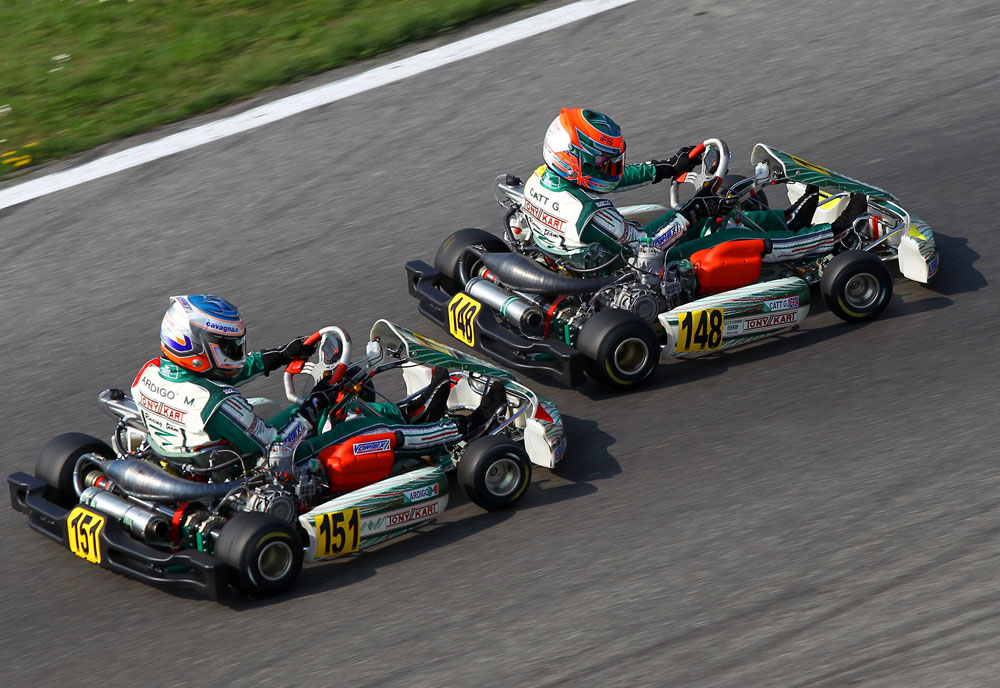 Since the qualifying rounds our engines gave proof or their sprinter qualities, confirming to be the best one in the difficult category with the shift. In the short competition, on Saturday, Ardigò was on the verge of the success, he also signed the best lap and was then reached on the podium by the team-mate, Rick Dreezen. In the second race, on Sunday, which gives a full score, our engines perfectly supported the Tony Kart chassis driven by Ardigò and the success promptly arrived. The second position was signed by the deserving Winter Cup's champion, Hajek. In the tenth classification we had not less than four Vortex RVXX chassis, and other than the first two in the list, we had Convers (Kosmic Kart Racing Department) and Dreezen (Tony Kart Racing Team).
The success of our engines has been the climax of the live broadcast on Rai Sport 1 channel.
Link at: http://www.wskarting.it/.
Giovanni Corona – Vortex manager:
"We are satisfied with this success since we are proving to be able to compete at high level, since the first race. I cannot deny that by winning at the Vortex headquarter's closest track, with all the people working for us, it is a further reason of great satisfaction. "
2011 RESULTS OF VORTEX ENGINES
| | | | | | |
| --- | --- | --- | --- | --- | --- |
| Event | Driver | Nationality | Cat. | Team | Result |
| 2nd round - WSK Master Series | Marco Ardigò | Italy | KZ1 | Tony Kart Racing Team | VICTORY |
| 2nd round - WSK Master Series | Patrick Hajek | Czech Republic | KZ1 | Orion Racing team | 2nd class. |
| | | | | | |
| 1st round - WSK Euro Series | Rick Dreezen | Belgium | KZ1 | Tony Kart Racing Team | VICTORY |
| 1st round - WSK Euro Series | Marco Ardigò | Italy | KZ1 | Tony Kart Racing Team | 2nd class. |
| | | | | | |
| 16th Winter Cup - Lonato | Patrick Hajek | Czech Republic | KZ1 | Orion Racing team | VICTORY |
| 16th Winter Cup - Lonato | Rick Dreezen | Belgium | KZ1 | Tony Kart Racing Team | 2nd class. |
| 16th Winter Cup - Lonato | Marco Ardigò | Italy | KZ1 | Tony Kart Racing Team | 3rd class. |