VORTEX: NEW 4 STROKE ENGINE
We've just introduced in our range of engines the 4-stroke 250cc. The new engine comes directly from the 4 stroke engines' series manufactured by Technique Engineering. This new Vortex 4 stroke engine, will be developed and manufactured in our modern seat located in Pavia, which has just been celebrated, and they will be put on sale thanks to the capillary sale network we already own.
VORTEX: NEW 4 STROKE ENGINE ...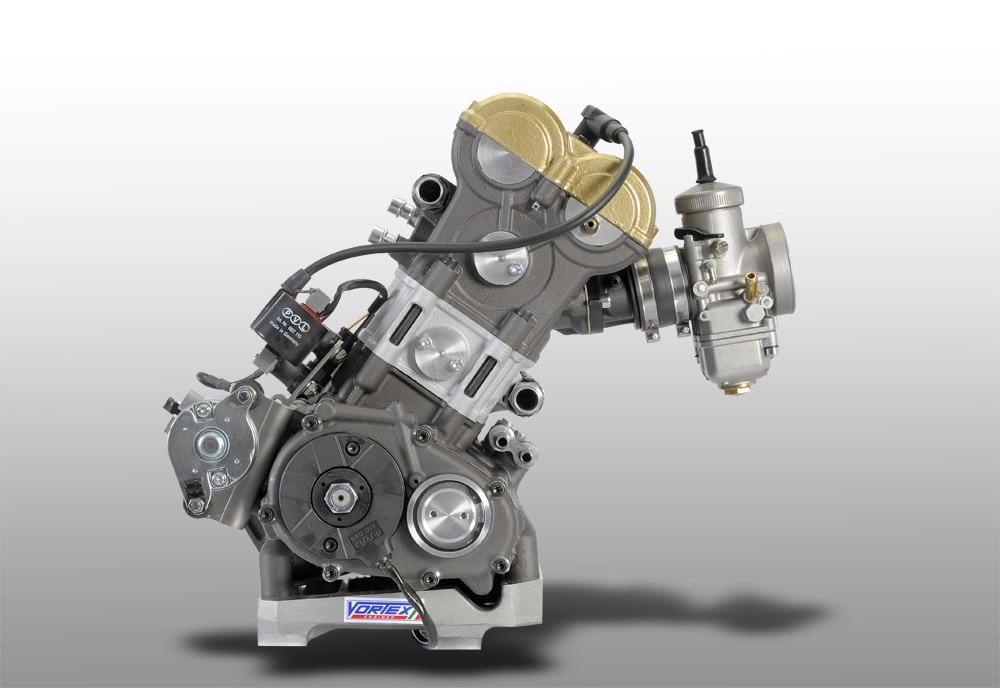 Vortex is the world leader in the manufacturing of the competition two-stroke engines, and we own solid and tested experience in the field. Our production process will allow to gain top-level quality standards concerning 4-stroke engines, thanks to many quality checks and high-precision machinery.
The 4 stroke engine produces lower noise and pollution than other kind of engine units. We wish to draw your attention also to the environmental-friendly significant aspect which has been becoming more and more important in the motorsport field.
Our factory is taking over a valid project today, conceived by the Technique Engineering, which will be further developed according to definite working steps already used in the manufacturing of any Vortex product.

Giovanni Corona – Vortex Manager
"We embarked on the new path of the new 4 stroke engine with strong passion, supported by the know-how that could make us face this new adventure with the inning spirit. The acquisition of this project is allowing us to largely widen the range of karting engines. No other manufacturers are able to offer such a varied range of products addressed to a homogeneous public of drivers. The 4 stroke engine has been added and completes our already winning range of engines"

Technical features of Vortex engine type 4T
Max bore allowed

79 mm

Stroke

50.9 mm

Capacity

250 cc.

Valves

4

Valve train

Timing Gears

Starter

Electrical starter

Lubrification

Dry-sump system

Cooling system

External water pump

Transmission

Centrifugal clutch

Ignition

Digital capacitive

Engine weight

16.3 kg

Carburettor
According to type

34 mm
30 mm
mm20

Power



38 HP
35,5 HP
21 HP

Torque
According to type

28 Nm
27 Nm22
Nm

Max rounds
Max RPM
According to type

13,200
13,000
12,500