VORTEX RAD WORLD CHAMPION FOR KF1 WITH FLAVIO CAMPONESCHI AND TONY KART.
Flavio Camponeschi won the world title for KF1 category with the Vortex RAD engine 3 victories, two podiums, one pole and one best lap. It's with these performances that Camponeschi led the World Championship Vortex RAD collected two important results in 2012, the World Championship for KF1 and the World Cup for KF3 categories Protagonists' opinions: Giovanni Corona – Vortex Manager and Flavio Camponeschi – World Champion for KF1 at the drive of a Tony Kart-Vortex-Bridgestone
VORTEX RAD WORLD CHAMPION FOR ...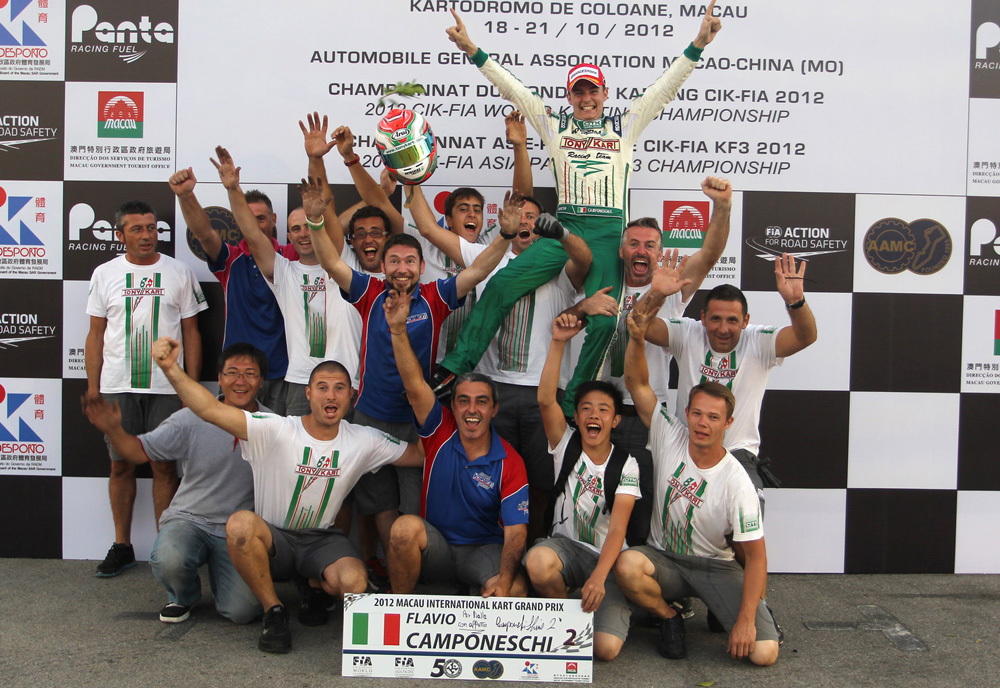 At the Circuit of Macao, Vortex driver Flavio Camponeschi conquered the CIK-FIA World Championship for KF1 category.
Undoubtedly our driver won the most important title assigned each year in the karting international scenario. Camponeschi, at the drive of a Tony Kart chassis, powered by a Vortex RAD engine, led the world championship, made up of eight competitions held at the Circuits of Suzuka (Japan) and Macao.
Out of eight rounds, the new World Champion won not less than three competitions, he got on the podium twice, signed one pole position and one best lap in race, and it's with this impressive path that our driver could win the world title. Next to the world Championship's title is also the World Cup for KF3 category, won already by our RAD engine a few weeks ago with Luca Corberi and the Kosmic Kart Racing Department.
For our engines both the World Cup and the World Championships victories in KF3 and KF1 categories, respectively, mark an important goal that no other competitor owns but us.
Giovanni Corona – Vortex Manager
"I wish to congratulate with Flavio (Camponeschi) and with the whole Tony Kart Racing Team for the great work they did. Thanks to our RAD engines we could won the most prestigious title assigned each year in the karting scenario with the World Championship. Moreover we were able to win the World Cup for KF3 category, too. Engines are employed in a different manner during the two championships, for KF1 and KF3 categories, and this further confirms the reliability, versatility and winning potential of the RAD engine."
Flavio Camponeschi – CIK World Champion for KF1 category – Tony Kart-Vortex
"I wish to thank the whole Vortex staff which worked a lot always giving me fast and reliable engine.
What I could rely on in order to obtain this difficult result, is the Vortex engine, undoubtedly. The success came also thanks to Tony Kart chassis which make a perfect union with engines supporting me at best anytime."