VORTEX: winner in SKF and KF2 categories of the WSK World Series
Vortex palmares' list is becoming even longer after the end of the WSK World Series.The last round of the WSK World Series collects a double success for our RAD engines, the win in the top class, the SKF and in KF2 category.
VORTEX: winner in SKF and KF2 ...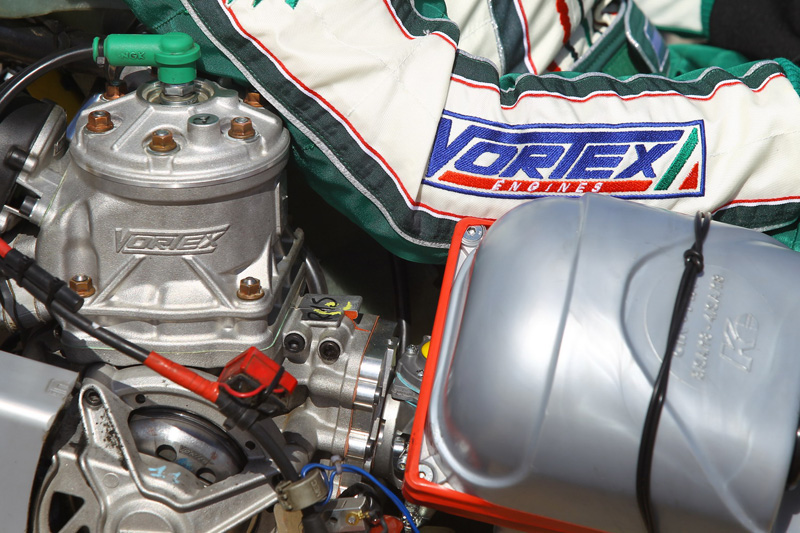 Both victories arrived at the end of two strong and spectacular competitions and both have been obtained thanks to the Kosmic Kart Racing Department, with Armand Convers and Sébastien Bailly.
After conquering the success with the new RAD in the Euro Series, in SKF and KF2 category, our engines had to undergo the difficult World Series proof, a real world championship divided into three trials, one in Europe, the second in the United States and the last one in Egypt, Sharm el Sheikh.
Our engines gave clear evidence of reliability and performances during the whole hard WSK championship, resulting in being considered as the most winning engines in the three current categories, SKF, KF2 and KF3 categories, gaining three victories out of three in the KF2 category, two ones in KF3 and a total amount of twenty podium.
Qualities of our two RAD and RVXX models are dual, on one hand they have proved their winning performances, on the other they have confirmed to be top-level engines easy to be managed by private valid organizations, too. In confirmation of it are the excellent performances and the partner teams' victories, unofficial ones, and last but not least figures are showing their wider distribution than any other competitor's engines.
Giovanni Corona – in charge of Vortex Engines
"We have obtained a good result in this championship, too, gaining an important success, in SKF and KF2 category, and we are undoubtedly glad for this. I congratulate with the Kosmic kart Racing Department for these achievements.
The thing I want to underline is the distribution of our two models, RAD and RVXX which has now reached important markets.
Of course it has been possible thanks to Vortex engines which are able to create an important synergy, not easy to obtain, between speed, reliability and the fact they are easy to deal with but indeed a result on which we are working on day after day.
We will continue this way, with the aim of giving our team, official and unofficial ones, winning and easy to be managed engines. It is an exciting chase for the whole factory, making our job more and more interesting.