Spectacular O'Ward at the Super Nationals' event in Las Vegas.
The very young Rokker of J3 Competition's Team has written himself in the gold book of the Mini Rok competition held in Nevada. The Rok opening, held on the circuit realized in the parking area of the Rio Hotel of Las Vegas, has been an authentic success. Not less than 42 were the young "stars and stripes" Rokkers competing, which gave a very important prize to Vortex and its championship, in the United States, too.
Spectacular O'Ward at the Su...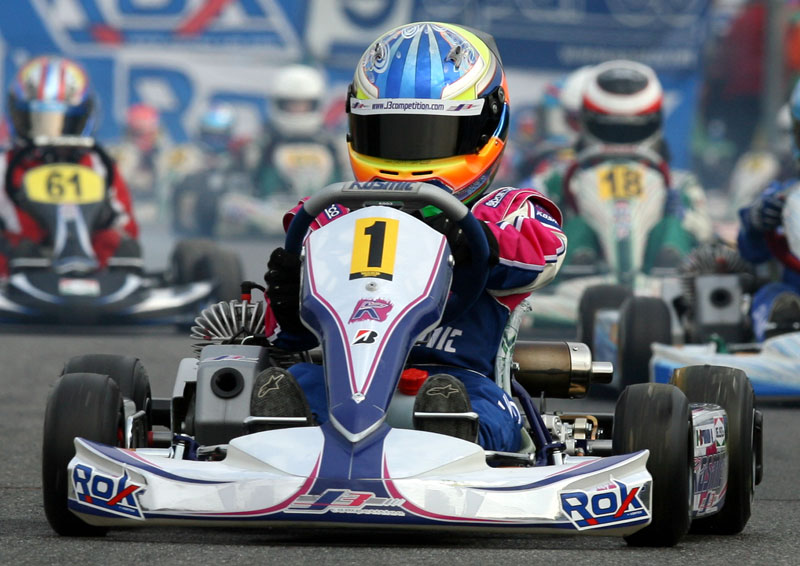 Patricio O'Ward (Kosmic Kart – Mini Rok) just returned from his excellent performance of the International Final of Lonato, once again showed off his driving skills winning the Rok competition of Las Vegas.
Many were the protagonists in the Mini Rok category, amongst which the poleman Flinn Lazier and the winners of the qualifying rounds, Devlin De Francesco, Anthony Gangi Jr and Parker Thompson, all of them big protagonists in the very Final, too. Under the chequered flag the winner was O'Ward just in front of Parker Thompson and Colton Herta.
Classifications at: http://www.superkartsusa.com/national/skusa-supernationals/results.html?mylaps=type,run,runid,1752591
Giovanni Corona – Vortex Manager
"The debut of the Mini Rok category in the highlight event of the American karting scene has undoubtedly been positive. We collected a huge number of entries and everybody has been completely satisfied of engines' performances and quality and also they have appreciated the Rok championship in any of its organizational features. Very important to know in order to go ahead with our Rok project in the United States.We will work with the aim of following up with our category in 2011 and, no doubts, it seems like the basis are very good already"