Real success in 2010 for RAD and RVXX engines
WSK Euro Series, WSK World Series, Super National USA, WSK Nations Cup and Macau Grand Prix. These are the titles our RAD and RAV models won in their first season.
Real success in 2010 for RAD a...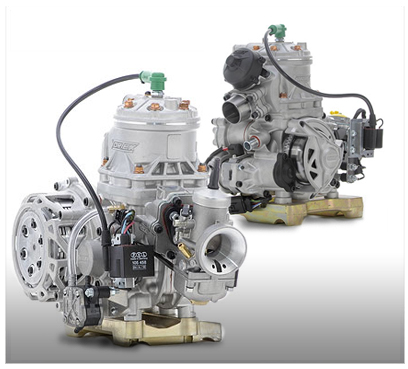 Vortex has been confirming to be the absolute leader factory in the manufacturing of top-class winning engines, able to put together performances and reliability. Many are the partner-teams adopting our engines in all categories, KF and KZ, and appreciating Vortex for its high performances, manufacturing perfection and reliability. A resume of technical skills which can be found in the RAD and RVXX models, to the point they have become the best known in the most International competitions. The hard job mad with our official teams, Tony Kart Racing Team, Kosmic Kart Racing Department, Tony Kart Junior Racing Team and FA Kart, took us to the achievement of the most prestigious results. Not to be forgot is also the very well job our team-partners did, showing off very good performances in most National and International Championships. Amongst others, we cannot miss to mention the increasing Rok Cup International success, whose Championship include several Countries from four different Continents. And it is through this important event that we intend to reach more and more valuable goals in the next 2011. In particular, for the year 2011 we would like to finish the building of the new Vortex factory, a modern enterprise, with the best computer-assisted design and manufacturing of more and more advanced engines.
Giovanni Corona – Vortex Chief Manager
"We obtained satisfactory results in both KF and KZ categories and this is Abbiamo ottenuto risultati soddisfacenti in entrambe le categorie KF e KZ e questo non è da tutti. Il 2010 è stata la stagione che ha visto debuttare i nuovi modelli RAD ed RVXX, omologati all'inizio dell'anno, questo ha rappresentato per noi un momento cruciale del nostro lavoro. Quando debutta un nuovo modello siamo sempre molto emozionati e ci aspettiamo che questo soddisfi le nostre aspettative, le vittorie e la diffusione ottenuta da RAD e RVXX è la migliore risposta alle nostre ambizioni. Un altro successo che annovero con piacere riguarda la Rok. Abbiamo mantenuto alto il livello del nostro campionato, in tutti i paesi in cui eravamo già attivi ed abbiamo dato vita a nuovi progetti per sviluppare la Rok Cup in paesi importanti quali Stati Uniti e Giappone."
VORTEX RAD AND RVXX SUCCESS IN WSK SERIES DURING THE 2010 SEASON
| | | | | | |
| --- | --- | --- | --- | --- | --- |
| Event | Driver | Nationality | Cat | Team | Result |
| Macau Grand Prix SKF | Marco Ardigò | Italy | SKF | Tony Kart Racing Team | CHAMPION |
| Macau Grand Prix SKF | Ben Cooper | Great Britain | SKF | Kosmic Kart Racing Dep. | 2nd position |
| Macau Grand Prix SKF | Armand Convers | France | SKF | Kosmic Kart Racing Dep. | 3rd position |
| | | | | | |
| WSK Nation Cup | Marco Ardigò | Italy | KZ2 | Tony Kart Racing Team | CHAMPION |
| WSK Nation Cup | Rick Dreezen | Belgium | KZ2 | Tony Kart Racing Team | 3rd position |
| WSK Nation Cup | Chris Lock | Great Britain | KF2 | Tony Kart Junior Racing Team | CHAMPION |
| | | | | | |
| XIV Super Nationals USA | Marco Ardigò | Italy | KZ2 | Tony Kart Racing Team | CHAMPION |
| XIV Super Nationals USA | Rick Dreezen | Belgium | KZ2 | Tony Kart Racing Team | 2nd position |
| | | | | | |
| WSK World Series | Armand Convers | France | SKF | Kosmic Kart Racing Dep. | CHAMPION |
| WSK World Series | Sébastien Bailly | Belgium | KF2 | Kosmic Kart Racing Dep. | CHAMPION |
| WSK World Series | Rick Dreezen | Belgium | KZ2 | Tony Kart Racing Team | 2nd position |
| WSK World Series | Robert Visoiu | Romania | KF3 | Morsicani Racing | 2nd position |
| WSK World Series | Chris Lock | Great Britain | KF2 | Tony Kart Junior Racing Team | 2nnd position |
| WSK World Series | Ignazio D'Agosto | Italy | KF2 | Tony Kart Racing Team | 3rd position |
| | | | | | |
| WSK Euro Series | Armand Convers | France | SKF | Kosmic Kart Racing Dep. | CHAMPION |
| WSK Euro Series | Ignazio D'Agosto | Italy | KF2 | Tony Kart Racing Team | CHAMPION |
| WSK Euro Series | Rick Dreezen | Belgium | KZ1 | Tony Kart Racing Team | 3rd position |