OTK ANNOUNCES NEW AUSTRALIAN IMPORTER FOR MINI ROK
OTK Kart Group S.r.l. is pleased to announce that the Paul Feeney Group Pty. Ltd. (PFG) has been appointed the sole Australian Importer/Distributor for the Vortex Mini Rok engine, spare parts, components and sportswear.
OTK ANNOUNCES NEW AUSTRALIAN I...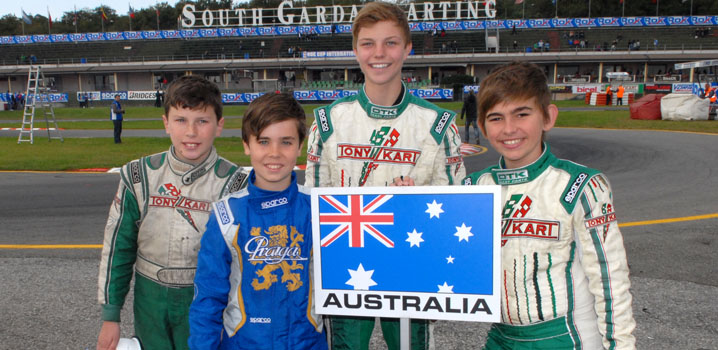 The arrangement, following many months of negotiations was signed at the Vortex Rok Cup Final held at the South Garda Karting Complex in Lonato, Italy on Friday October 24.
"The Paul Feeney Group has been chosen as our new Australian distributor. Their extensive background as a well-respected importer and distributor of world class automotive products over many years puts the Vortex distribution in Australia in good hands," said Mr Corona, President of OTK Kart Group. "The opportunity to supply the Mini Rok engine in Australia meant that OTK should step up our distribution to ensure that the Australian karting community would get world class service from Vortex."
The Vortex Mini Rok 60cc engine will be introduced into Australian Karting Competition from the commencement of the 2015 season and will be the engine of choice for the Cadet 9, Cadet 12 and KA 12 classes.
Australia will be the 20th country to adopt the Vortex Mini Rok engine as a control engine for the young age class of competition.
The first shipment of the Australian Homologated Vortex Mini Rok engines are expected to arrive in Australia in December.
"This is a very exciting time for both Vortex and junior karting in Australia as both OTK and PFG intend to support the Vortex Mini Rok competitors strongly from the beginning of 2015 onwards." Said Mr Corona.
As a part of our commitment the Vortex Mini Rok project gives Karting Australia the opportunity for its 2015 Australian Mini Rok National Champion(s) to take part in the Rok Cup International Final and annually thereafter as this event is held in Lonato, Italy every October. The Rok Cup International Final attracts more than 300 drivers from over 30 countries around the world.
The combination of Vortex, Karting Australia and PFG will be an integral part of Australian karting moving into the future bringing both parity and competitive racing to the Vortex Mini Rok categories.
The OTK Group and PFG are seriously committed to supporting Junior karting in Australia and into the future.
About Paul Feeney Group Pty Ltd
Paul Feeney Group is a wholly Australian owned, private automotive import and distribution group.
Formerly the Australian distributor of Husqvarna and MV Agusta motorcycles for many years and in 2012 was chosen as the World's best distributor for the Husqvarna brand.
The company has been involved in importation and distribution of motorcycling equipment since the mid nineties.
PFG has been very successful over the years and has the infrastructure, the team and the knowledge to supply and support the Vortex Mini Rok engine, spare parts and accessories range, both successfully and professionally.