Leaders in KZ1 category on the occasion of the 16th edition of the Winter Cup
Our 2011 season has just begun signing a success, as well as we did to close the year 2010. During the 16th edition of the Winter Cup, the traditional event opening the International season, our engines, together the Tony Kart Racer EVRR chassis, obtained an excellent success in the most important category, KZ1, with three drivers in the very first three positions.
Leaders in KZ1 category on the...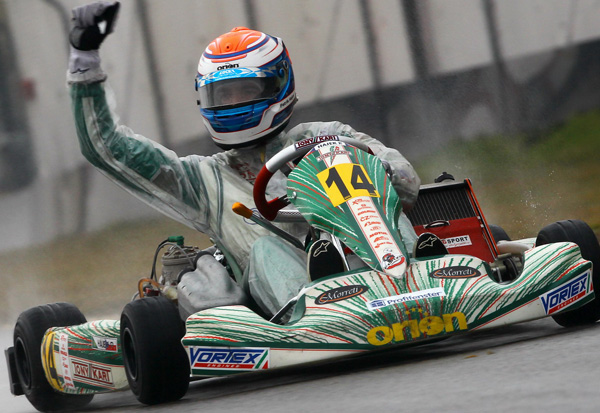 Patrick Hajek, Rick Dreezen and Marco Ardigò, racing for Orion Racing and Tony kart Racing Team respectively, had a very good week end which ended up in a final triple-win, obtained on a wet track. Our RVXX engines gave their best and, even though weather conditions and track condition during the final were not good, allowed our drivers to fast race during the whole race. At the end of the 25th round of the final, 13 drivers only crossed the line at full-time. It is a proud to our factory that also one of our partner-teams and its driver, Hajek, succeeded in an important event such the Winter Cup is, since it clearly proves that the products we supply to Vortex customers are a high level's quality. Our Racing Teams' activity will go on at the end of the month (February, 24th to 27th) with the WSK Master Series' competition on the International La Conca Circuit.
Classifications at: http://www.southgardakarting.it/archivio.php?IDgara=132&anno=2011#gara

PROTAGONISTS' OPINION
Patrick Hajek – Orion Racing Team's driver - Winter Cup's Champion in KZ2 category
"I am fully satisfied with this success and I wish to thank my team as well as Tony Kart which gave me a very good chassis. My decision to start with slick tyres during the pre-final was perfect, I could recover and take advantage of completely new rain tyres at the end. I was very fast and concentrated, I always raced at my best so I could be sure no one could catch up with me. I had a good chassis very easy to be led and this is what Vortex allows with its chassis' flexibility features. I could then be strong since the first to the last round without making mistakes".